Joy Thomas
Secretary
Joy is a resident of Whites Cove on Grand Lake. She has enjoyed summers on Grand Lake since her father built a cottage on the Lake in 1958. In 2016 Joy and Robert made a permanent move to Whites Cove. Joy is passionate about ensuring the watershed area and its ecosystems be protected and preserved for future generations to enjoy.
Peter Davidson
Treasurer
Peter Davidson has a summer cottage on Grand Lake and is interested in the preservation of water quality as well as flood damage mitigation.
Greg Gillis
Greg Gillis was raised in Minto and currently resides in Fredericton. He and his family have enjoyed their cottage on Grand Lake over several generations. During this time he has witnessed growth in the number of year round and seasonal residents and changes in the fish populations and aquatic habitat. His goal is to help to develop a better understanding of the lake system and to ensure that future generations can continue to enjoy this wonderful gift.
Hazen Hughes
"I have owned property on the Grand Lake for 55 years. I am very interested in maintaining a clean and safe environment for the future."
Dieter Kromm
"I'm a retired oil & gas facilities engineer and for the past 11 years have spent the summery half of the year at our summer home on Cumberland Bay. My wife Debra Hawker, who grew up in Coles Island, is the genesis behind residing here part time. I feel privileged to enjoy the natural richness the area offers. That comes with a shared responsibility to help preserve the watershed for future generations to enjoy; hence my involvement with JGLWA."
Brad Longard
Brad Longard runs a small farm in Waterborough, N.B. where he and his family have lived since 2016. They care deeply about environmental issues, and value a community-oriented approach to managing the watershed.
Jennifer McPhail
Jennifer McPhail is a proud New Brunswicker and a fourth generation cottage owner on Grand Lake. She wants to preserve our waterways so that four generations from now, her family will still be enjoying Grand Lake.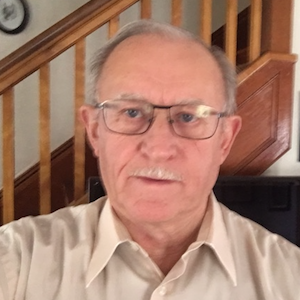 Neil Orchard
"I was born in Waterborough, and have been a resident here since 2010. Our family lived in Islandview (Fredericton) for 40 years. We liked Fredericton, but always looked forward to getting to our cottage on Wiggins Cove. I am pleased to be part of this Association."
John Welsman
John married into a family that has been enjoying summers on Grand Lake since the 1920's, and is pleased to work with the JGLWA to ensure the good health of the lake and ecosystem for generations to come.