Webinar: Ecosystem recovery from Minto coal mining: a fascinating story
When did coal mining start in the Minto, New Brunswick area? What environmental, social and financial impacts has it had over the years? How has the water quality of fresh water runoff from the mine tailing ponds changed over time? Why are the ponds that beautiful aquamarine colour? What are the future plans for ecosystem improvement in the mine tailings areas?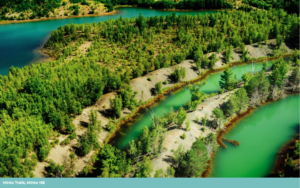 Join us via Zoom webinar on Thursday, March 2, 2023 at 8:00 pm Atlantic time to hear this fascinating story from Peter Dufour. Peter grew up in Minto, and started working for NB Coal Ltd. in 1977. He has unique knowledge and insights into the coal mining operations, and subsequent land reclamation work in Minto. Questions are encouraged, both before the webinar via email (to jem[email protected]), and during the webinar itself.
Find out more and register at bit.ly/3HfF5DF .  The email invitation (with more information about the webinar) is available at bit.ly/41bKR2w .