AlgaeTrackers | 2022 Water Quality Report | 2021 Water Quality Report | 2020 Water Quality Report | 2020 field season
More detailed water quality information is available in the annual water quality reports available at our Reports web page.
AlgaeTrackers
The Jemseg Grand Lake Watershed Association is pleased to be partnering with the Hammond River Angling Association to deploy an AlgaeTracker in Grand Lake. This is a real-time monitoring system that records water temperature, water turbidity, and two pigments associated with algal blooms: chlorophyll a and phycocyanin. Chlorophyll a is associated with green algae and phycocyanin is associated with cyanobacteria (also called "blue-green algae"). The AlgaeTracker data are available for viewing online (see below), with measurements updated automatically every 30 minutes. There are six AlgaeTrackers deployed in New Brunswick waters, and one of them is stationed near Cumberland Point in Grand Lake.
Enter the login credentials (login email: [email protected] , password: jemsegglwa ) below to see the latest data observed by the Jemseg Grand Lake Watershed AlgaeTracker and the five other New Brunswick AlgaeTrackers.
Once logged in, scroll down to the Jemseg Grand Lake Watershed AlgaeTracker at the bottom, and click on the Details link.
The data collected by the AlgaeTrackers will be used by the Province of New Brunswick to learn more about water conditions that foster algal blooms, and specifically cyanobacteria blooms. Under certain conditions, cyanobacteria can release toxins that can harm pets (e.g. dogs) that ingest the cyanotoxins by drinking lake water or chewing on algal mats. The presence of phycocyanin pigment in water means that cyanobacteria are present but does not mean that toxins are present. Some excellent resources explaining cyanobacteria are available here on our website.
Determining if cyanotoxins are present requires collecting a sample of water for testing. The Jemseg Grand Lake Watershed Association is partnered with ACAP Saint John to use rapid test kits for the presence of toxins from cyanobacteria in our lake water this year, and we plan to report 2023 test results to the Province. There is a lot of research underway around North America to learn more about cyanobacteria and cyanotoxins, and the Jemseg Grand Lake Watershed Association is part of this research effort.
2020 Field Season
With assistance from the N.B. Alliance of Lake Associations and our committed Association volunteers, we completed our 2020 volunteer water quality monitoring activities at six sites in the Grand Lake area. The yellow markers in the image below shows the locations of these sites.
Each site was visited four times by two teams, a north team and a south team of volunteers.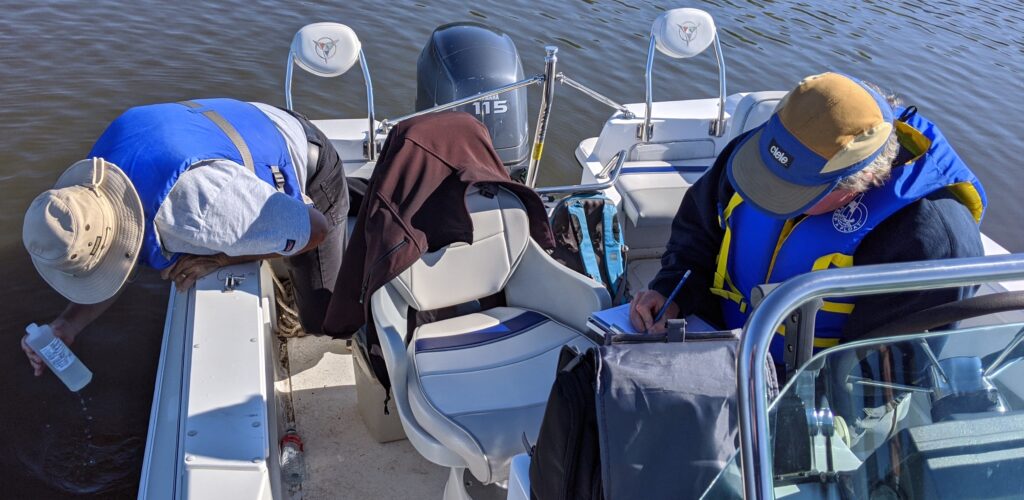 An excellent summary of the initial findings was presented by Eric Luiker in his webinar entitled "Understanding Lake Water Quality: First Steps for Grand Lake, New Brunswick". Eric is a member of our Association and is an experienced aquatic ecologist. Eric kindly led our Association's volunteer water quality observation program during the summer of 2020.
With the help of the Nashwaak Watershed Association, we have prepared a 2020 field season "Water Quality Report" that summarizes the water quality in the Grand Lake area based on data from the six sites.